---
Crimes of Passion
Set in Post-War Sweden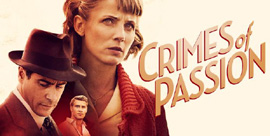 Based on the classic mystery novels by Maria Lang and starring Wallander's Ola Rapace, Crimes of Passion is a collection of stylish whodunnits set in post-war Sweden. The brainy and beautiful Puck is a university student obsessed with crime novels, so when she finds herself in the middle of mystery and murder, she's never short on ideas and insights. She's also in love with fellow academic Einar, who is as drawn to her as he is to medieval history. Together with Einar's childhood friend, Police Commissioner Christer, they witness the passions, betrayals and intrigue in the lives of respectable and seemingly quiet-living Swedes. Crimes of Passion is set in the magical beauty of the lake region of Bergslagen in south central Sweden. It may be far north on the globe, but given their steamy passions and secret lives, there's nothing chilly about these characters from Lang's famous mysteries. 2013.
In Swedish with English Subtitles
---
Commercial Availabilty of DVDs
for the Home Video Market
NTSC - Region 1 • PAL - Region 4
---
In the United States, Buy DVDs
from MHz Networks or Amazon.com
Region 1 NTSC
---
---
---
Episode 1
Death of a Loved One
Puck has been invited by her tutor at the university to celebrate midsummer at his secluded cottage on an island together with a group of friends, among them Einar Bure. Puck and Einar are having a secret relationship, and he is the reason she says yes to the invitation. The summer nights are seductively beautiful and erotic tensions are rampant between the guests. Having been out on a romantic spree with Einar, Puck finds one of the female guests murdered. Einar contacts his friend Christer Wijk, but upon Christer's arrival, the dead body has disappeared. Contact with the outside world is broken when the island's only boat goes missing. They are trapped on the island – and someone amongst them is a killer. Under these circumstances Puck gets to know both Einar and Christer. But before the murderer is exposed, two people have been killed, and one person has committed suicide.
---
Episode 2
King Lily of the Valley
Spring is in the air and Puck and Einar, as well as Christer Wijk, are invited to a wedding in Skoga. The day before the wedding, the bride-to-be enters a flower shop in order to inspect her lily of the valley bouquet, but suddenly vanishes without a trace. When she eventually turns up again, it is Christer who finds her. She's lying dead outside her home with a bouquet of lily of the valley in her hand. Everybody close to the bride is a suspect, not least her best friend, whom Christer has just begun flirting with. Everybody seems to have something to hide. The question is: are their secrets connected to the murder?
---
Episode 3
No More Murders
Puck and Einar have been married for two months when they decide to spend the last weeks of their vacation in Einar's idyllic childhood town of Skoga. Puck's father Johannes Ekstedt, professor of Egyptology, has a cat named Thotmes III that joins the couple. They get to borrow Einar's sister's beautiful old wooden house as well as her highly competent housekeeper. But after the first night, the idyll crumbles. Einar finds a dead body on the lawn, a young man stabbed to death with a dagger. Christer Wijk enters the stage and with the help of Puck's observations, the mystery approaches its tragic solution.
---
Episode 4
Roses, Kisses and Death
The country estate of Rödbergshyttan is surrounded by heavily fragrant roses of every colour. There lives the beautiful Gabriella, whom Christer is in love with, and an invitation to their engagement party is the reason that Puck and her Einar travel there. But the rose-scented idyll soon turns into a stifling backdrop when Puck finds Gabriella's grandfather poisoned in his bed. Little by little, we learn that the relationships between the people living on the estate are anything but uncomplicated, and that there is a sexual frustration behind every well polished marriage. The question is to what extent beautiful Gabriella is involved in the intrigues and how much of a coincidence it is that her grandfather is killed just when Christer is in the house.
---
Episode 5
Dangerous Dreams
Puck has managed to get a job as stenographer for the eccentric Nobel Literature Prize laureate Andreas Hallman. Hallman is charming and genial, but also a neurotic tyrant. He forces his wife, his three grown children and a daughter-in-law to live in seclusion together, separated from the rest of the world. The atmosphere in the home is threatening and ultimately fatal. One night, after the daughter-in-law's birthday dinner, Hallman's eldest and best loved son dies. The question is whether the son, who was frail and sickly, died of natural causes or not. But not long afterwards, Andreas Hallman himself dies, and now there is no doubt that it is murder. An exquisite tale of poisoning unravels, exposing Puck to a murder attempt. At the very last minute, Christer Wijk manages to make the pieces of the puzzle fall into place and also saves the life of an already unconscious Puck.
---
Episode 6
Tragedy in a Country Churchyard
It is Christmas Eve, and a sumptuous Christmas table has been laid out in the vicarage for the vicar and his guests, Puck and Einar Bure, and Professor Ekstedt. Then there is a knock at the door. Blond and beautiful Barbara Sandell announces that her husband is missing. He is found murdered in his own country store and all of a sudden the vicarage and the village are teeming with photographers, forensic experts and police under Christer Wijk's command. Village gossip tears at old wounds while the mystery surrounding the crimes thickens. This is turning into a Christmas that the peaceful village will never forget.