---
BLOOD ON THE DOCKS
Set in LE HAVRE FRANCE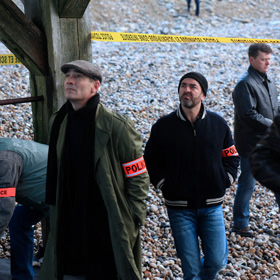 In French with English subtitles
Starring Jean-Marc Barr and Bruno Solo
Adapted from the best-selling crime novels by Graham Hurley
The port of Le Havre is at war against the gangsters who control the local drug trade, and on the front line are two cops, each with a very different approach. Inspector Richard Faraday is the clean-cut officer who goes by the book, reputed for his attention to detail and knowledge of the law. His former partner Paul Winckler is the grizzled rogue cop who's not shy about bending the law if it gets results. Between them, they set out to solve a succession of grisly deaths plaguing the underbelly of this working class port city in the north of France.
---
Commercial Availabilty of DVDs
for the HomeVideo Market
---
In the United States, the DVDs are
available from the MHz Networks Shop & Amazon
(U.S. Format - Region 1, NTSC)
In French with English Subtitles
---
Episode Descriptions
---
Episode 1
Angles Passing
A 15-year-old girl plunges to her death from a sixth floor condo balcony and the last person seen with her on a surveillance tape was an infamous street urchin. While Captain Faraday investigates, another death rocks the community - a young African man is found hanging under a pier.
---
Episode 2
White Lines
Just as the Police Chief Darnell is about to run a sting against the drug lord Swaty, one of her key officers gets severely injured by drug runners. She sends Captain Winckler in his place, who brings along the department's fresh-faced rookie. Captain Faraday's son Lulu also enters the drug world when he shoots a video-verite documentary about an addict. .
---
Episode 3
One Under
Naked and crying for help, a young man lies chained to the rail line as the commuter train approaches. Captain Faraday learns that the victim was part of a group of social activists in the city, as well as a respected artist. Captain Winckler also discovers that a casual acquaintance of the victim, an elderly portrait photographer, has also gone missing.
---
Episode 4
Blood and Honey
The decapitated body of a young man is found on the beach. Overwhelmed by the barbarity, Winckler leaves the crime site and lets Faraday work the case. Faraday's investigation brings him to a construction site, where another corpse is found in the concrete. Winckler gets a new assignment: a drug bust of some wealthy socialites. But he finds his share of barbarity in that corner of Le Havre, also.