---
Fred Vargas'
Jean-Baptiste Adamsberg
---
Commercial Availabilty of DVDs
for the Home Video Market
---
FRED VARGAS COLLECTON
In French with English Subtitles
Buy the DVDs (Region 4 PAL)
from Aztec International in Australia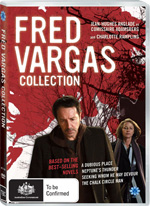 Region 4, PAL
FOUR FILMS
Fred Vargas Collection
Based on the Best-Selling Novels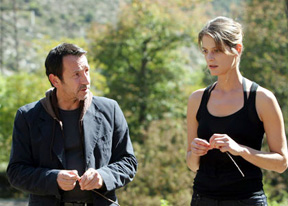 ---
Sous les vents de Neptune
(2008) TV episode
Neptune's Thunder
starring Jean-Hugues Anglade
Police captain Adamsberg must re-open a mysterious old murder case connected to the disappearance of his suspected brother. Once again, Adamsberg must hunt down the Trident, nicknamed for impaling his victims/ bellies with a three-pronged weapon. When a new victim across the ocean in Quebec is found, accusations point toward Adamsberg, just like his brother 30 years earlier.
---
L'homme aux cercles bleus

(2009) TV episode
The Chalk Circle Man
starring Jean-Hugues Anglade
"Victor, hex on you, what are you doing outdoors?" For the past four months, this phrase has been appearing overnight alongside circles drawn in chalk on the sidewalks of Paris. In the middle of these circles are strange objects: a trombone, a candle, a pair of tweezers, a pigeon/s foot, and so on. The press loves the mystery, and certain psychiatrists start to speculate on whether it/s the work of a maniac or simply a prankster. But Police captain Adamsberg is not laughing. These circles and their strange contents are a bad sign. He knows, he can feel it. And he is not wrong. Soon, the findings go from harmless oddities to the macabre. One morning, the body of a woman with her throat cut is found inside one of the blue circles.
---
L'homme à l'envers

(2009) TV episode
Seeking Whom He May Devour
starring Jean-Hugues Anglade
Wolves are back in the Mercantour hills, and suddenly a wave of carnage is sweeping this region of southern France, with sheeps being killed and lambs devoured. But what worries the locals is the size of the predator; some are talking of a werewolf, or ,The Beast of the Mercantour-. A young Canadian, specialist in protecting bears back home, has come to study the wolves, much to the annoyance of the local shepherds. He is drawn to the free spirited Camille, part-time plumber and musician. Meanwhile in Paris, Police captain Adamsberg is following the affair of the wolves with interest, and seems to expect worse than just sheep killings. His fears are proved right when a rich and outspoken sheep owner, Suzanne Rosselin, is found with her throat torn out. As Adamsberg and his deputy Danglard begin their investigation, the increasing violence of the attacks makes them suspect a serial killer. But once in the Mercantour, Adamsberg runs into Camille with whom he once had a romantic entanglement. She introduces him to her friends,including Soliman, the African adoptive son of Suzanne who loves to cite the definitions of words. And all the while, the bodies are piling up.
---
Un lieu incertain

(2010) TV episode
A Dubious Place
starring Jean-Hugues Anglade
Commissaire Adamsberg leaves Paris for a three-day conference in London. Accompanying him are Estalere, a young sergeant, and Commandant Danglard, who is terrified at the idea of travelling beneath the Channel. It is a welcome change of scenery, until a macabre and brutal case comes to the attention of their colleague Radstock from New Scotland Yard.
Just outside the gates of the baroque Highgate Cemetery a pile of shoes is found. Not so strange in itself, but the shoes contain severed feet. As Scotland Yard's investigation begins, Adamsberg and his colleagues return home and are confronted with a massacre in a suburban home. Adamsberg and Danglard are drawn in to a trail of vampires and vampire-hunters that leads them all the way to Serbia, a place where the old certainties no longer apply.
---
Have Mercy on Us All
Pars vite et reviens tard
In French with English Subtitles
2007

| | |
| --- | --- |
| | |
| Region 1, NTSC | Region 2, PAL |
| | |
Commissioner Adamsberg is intrugued by the four inverse images, painted on the doors inside different apartment blocks in the capital. On square Edgar Quinet, Joss Le Guern gets ready to do his morning cry. For several days, an anonymous client has been sending him mysterious, even incomprehensible messages. Written in 17-century French or even in Latin, these continuous messages send a chill down his spine. What do the obscure messages mean? Should they be taken seriously or are they simply the work of an amateur? Or both? ...