---
FABIO MONTALE
In French with English Subtitles
Based on the Marseilles Trilogy
by Jean-Claude Izzo
Legendary French actor Alain Delon is Fabio Montale, a crime squad superintendent who knows Marseille like the back of his hand. Unfortunately, the city crawls with gangs, corrupt policemen, shady politicians and the mafia – all standing in the way of justice. Includes the mysteries: Total Chaos, Chourmo, Solea
---
Commercial Availabilty of DVDs
for the HomeVideo Market
---
(U.S. Format - Region 1, NTSC)
Available from Amazon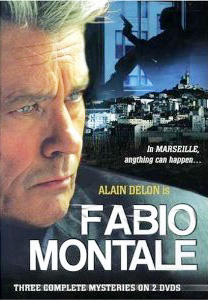 Order From Amazon

---
Buy the novels by Jean-Claude Izzo
The Marseilles Trilogy

| | | |
| --- | --- | --- |
| | | |
| Total Chaos | Chourmo | Solea |
| | | |
| | | |
| | | |
---
Descriptions of the Novels
---
Total Chaos
This first installment in the legendary Marseilles Trilogy sees Fabio Montale turning his back on a police force marred by corruption and racism and taking the fight against the mafia into his own hands.
---
Chourmo
In this second installment of Jean-Claude Izzo's legendary Marseilles Trilogy-which includes Total Chaos,Chourmo, and Solea-Fabio Montale has left a police force riddled with corruption, racism, and greed to follow the ancient rhythms of his native town: the sea, fishing, the local bar, hotly contested games of belote. But his cousin's son has gone missing, and Montale is dragged back onto the mean streets of a violent, crime-infested Marseilles.
---
Soleo
The third and final installment in the remarkable Marseilles Trilogy (including Total Chaos and Chourmo), Solea continues Jean-Claude Izzo's distinctive brand of vibrant crime writing, skillfully evoking a time and place that have captured the hearts and imaginations of readers the world over. Marseilles' simmering issues of race, politics, organized crime, and big business come to a rolling boil. Ex-cop, loner, and would-be bon vivant, Fabio Montale is back. His heartfelt cry against the criminal forces devastating his beloved Marseilles provides the touching conclusion to a trilogy that epitomizes the aspirations and ideals of the Mediterranean noir movement.